Over half (52%) of motorists who don't have a classic car, claim they would like to own one
'Nostalgic', 'distinctive' and 'stylish' are the words most associated with classic cars
40% of classic car owners say they are "fun to drive"
4/5 (76%) of respondents overall say classic cars should be preserved as they were made
However, 2/3 (55%) also claim classic cars can be modified and still retain their appeal
Three quarters (73%) of classic car drivers say insuring their car was cheaper than expected
Almost half (45%) of classic car owners use their cars for 'everyday trips'  
Today, the UK's biggest specialist motor insurer ERS has unveiled a study into classic cars and the passion owners have for these nostalgic vehicles. At a time where autonomous cars are on the horizon and the future and demands on classic cars is evolving, the study uncovers that style and nostalgia still continue to reign supreme amongst Britain's motoring enthusiasts.  
The report, conducted among just under 1000 classic and non-classic car drivers in the UK found that classic cars are still desirable with over half (52%) of non-classic drivers claiming they would like to own one. Buying a classic car is an investment that many enthusiasts view as a lifetime commitment – with driving and maintaining a 'nostalgic' and 'distinctive' car being the pleasures of ownership. 'Style' was the top factor (24%) in indulging in a classic car, over age (20%) or even rarity (12%).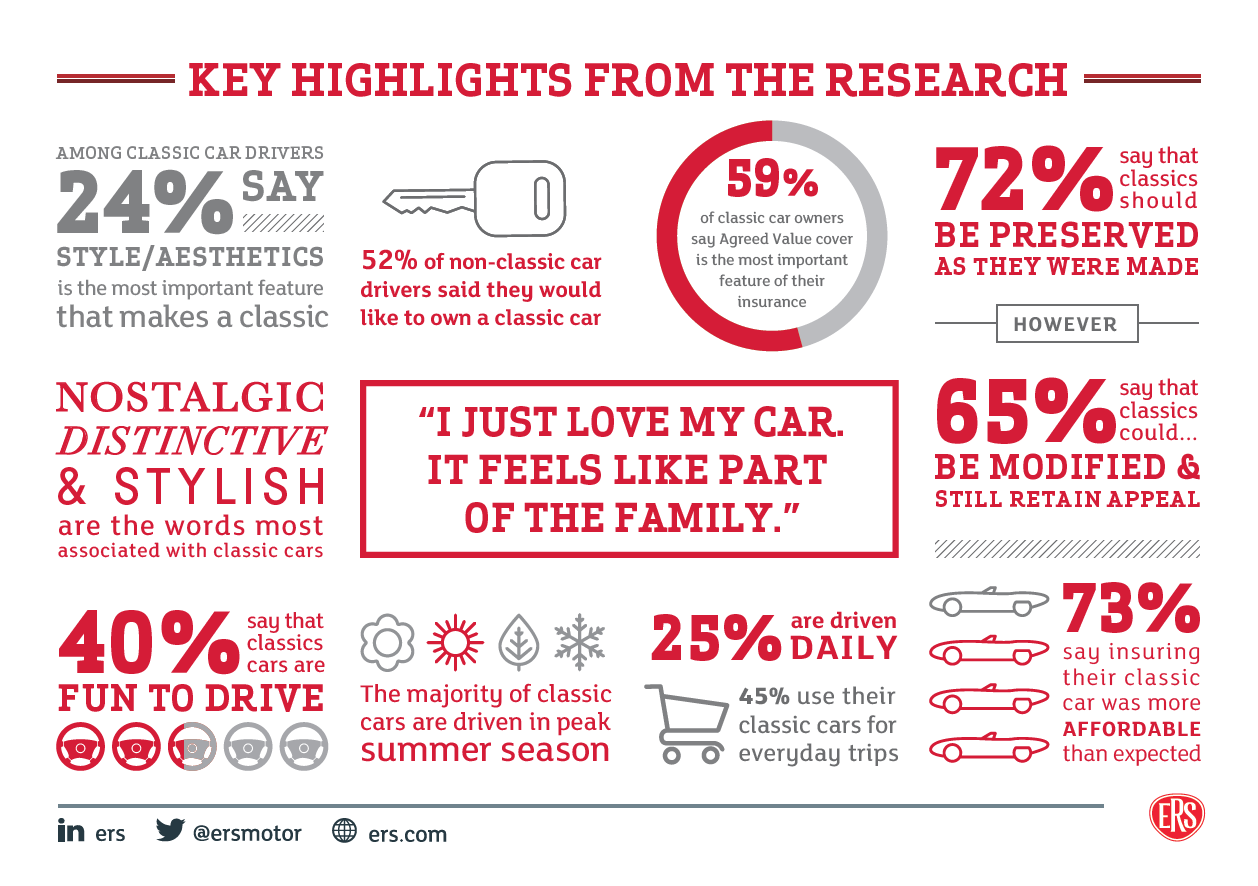 However, the implied costs of maintenance, insurance and of the car itself prove to be holding many back from indulging in their passion for classics. Many classic car fans are daunted by the prospect of an ominously large insurance cost, with over 1/3 (37%) of non-classic drivers calling out insurance cost as the main deterrent. However, three quarters (73%) of classic car drivers say insuring their cars was cheaper than expected.  
As the future of classics evolves and more cars are deemed 'classics' each year, the study found that over half (53%) of drivers agreed the defining quality of a classic car to be 'age'. However, what age is subject for debate as the rise of 'modern classics' – cars from the age of 20 years old – are still a dividing topic. A quarter (25%) of respondents argued that a car should only be deemed a classic if it is over 50 years old.  
The report also tackles the dividing topic of 'to preserve or adapt' as many classic owners fear adaptions to meet modern safety and road worthy requirements takes from the original beauty of their beloved classic. Over three quarters (76%) of respondents agreed that classics should be preserved as they were originally made (without modification), However a closer look at the figures reveals that, over half (56%) of the same group agreed that classic cars can be modified and still retain their appeal. It's clear that while there's a desire amongst enthusiasts to preserve these cars and all they represent, there is also an understanding that there is a need to move with the times as legislation comes into force around air quality.
Tom Donachie, Head of Bespoke at ERS said: "As we gear up for The London Classic Car Show this weekend, it's been incredibly interesting for us to do a deep dive on the current mind-set around classics. With the introduction of autonomous cars on the horizon, it's encouraging to see that the nostalgia and beauty of classics is still held in high regard – amongst owners and non-owners alike.  
"While 'would-be' owners' flag expense as a key concern, modern classics can be picked up for significantly less than a new or second hand car. When it comes to insurance, speaking to a broker is key. Whether you have owned classics for many years, or are taking your first steps into the world of classic car ownership, an insurance broker will establish your individual needs to get you more of the cover you need – not extras that you don't – to add real value at no additional cost." 
ERS is the classic car insurance partner at the 2018 London Classic Car Show at the ExCeL London, from 15th to 18th February and will sponsor the prestigious Grand Avenue Club VIP area. In this area, a team of expert underwriters will be working with specialist insurance brokers A-Plan Private Clients and Grove & Dean to provide live classic and prestige motor insurance quotes to attendees throughout the event.   
To read the full report click here.