When a car is in an art gallery you tend to stare at it differently. Or at least I do. Visiting theFerrari 'under the skin' exhibition in London's Design Museum was the perfect chance for me to park those (sadly all-too common) Ferrari prejudices and drink in some undeniable automotive history.  
A pearl white Ferrari 458 cruises past the entrance of the museum on Kensington High St. 'We're quite careful with underwriting those. They tend to get crashed a lot.' Good intel from ERS underwriter Sam Prever, who is walking shotgun with me through the exhibition. Sam is one of those guys who has to decide how much of a risk a 20-year old footie player with a Ferrari might be. He's also a firm fan of the prancing black horse.  
The entrance hall is dominated by a bright yellow 365 GTB/4 Daytona Competizione. That's my kind of car. It prompts Sam to ask whether old Ferraris are cooler than new ones. Me? Old ones are far cooler, yet much worse made. He too prefers a retro Ferrari.  
Through the red-lit foyer littered with quotes you're immediately met by the car that started it all - Ferrari's first model, the 125 S. Built to race, obviously. Enzo famously didn't so much care for road cars, but knew they were necessary to bankroll the racing programme. 'Race cars are neither ugly nor beautiful. They become beautiful when they win'.  
Passing several 'blue steel' (pre-sunglasses) portrait photos of Enzo, artefacts like his 1937 driving licence stopped me in my tracks. This is the stuff you don't normally see at a car show. No engine noise here. Just bare aluminium bodyshells dangling from the ceiling, Italians gesticulating and chassis.  
But not any old naked chassis, the under-garments of a 1957 250 GT. With its V12 3-litre triple-carb engine on full display, this is probably my favourite exhibit here. To drive that car in its skeletal form would be Ferrari at its most visceral. Sadly not possible. Unless I fancy being arrested.  
Beyond the scale design models Sam locks eyes with his ultimate Ferrari – the unmistakable F40. The last car Enzo himself signed off before his death.  
In the same room I'm more drawn to the 250 GT cabriolet, or more specifically its sculpted front chrome overriders. And that's the thing about Ferraris. Even if you don't adore the full package, there are certain details which just grab you. For me it's these overriders and the same car's vertical rear lights. And its door locks. And that central bonnet air nostril. By jove there's a lot to stare at.  
Sam's still worshipping the F40. It feels wrong to disturb him so I spend a few minutes eyeballing the 1986 Testarossa Spider. With its low wide shape and festival of slats and louvres, the shape looks better now than it did in the era of the Outrun arcade game. This is when Ferraris were built to last as long as a wedding cake.   
The next room is a spine tingler. It contains five racing Ferraris which Sam and I quickly realise are collectively worth more money than either of us can write down. At the front is Michael Schumacher's winning 2000 Ferrari F1 weapon. At the back a Ferrari 500 and in the middle a green 250 GTO – the most desirable Ferrari of all time – and a pair of 250 GTs. One of these is the car Sterling Moss famously won at Goodwood in '61 after speedily recovering from breaking both legs. Apparently he raced with the radio on so as to listen in on the live BBC commentary.
What a dude. 
The Ferrari: Under the skin expo runs until April 15th.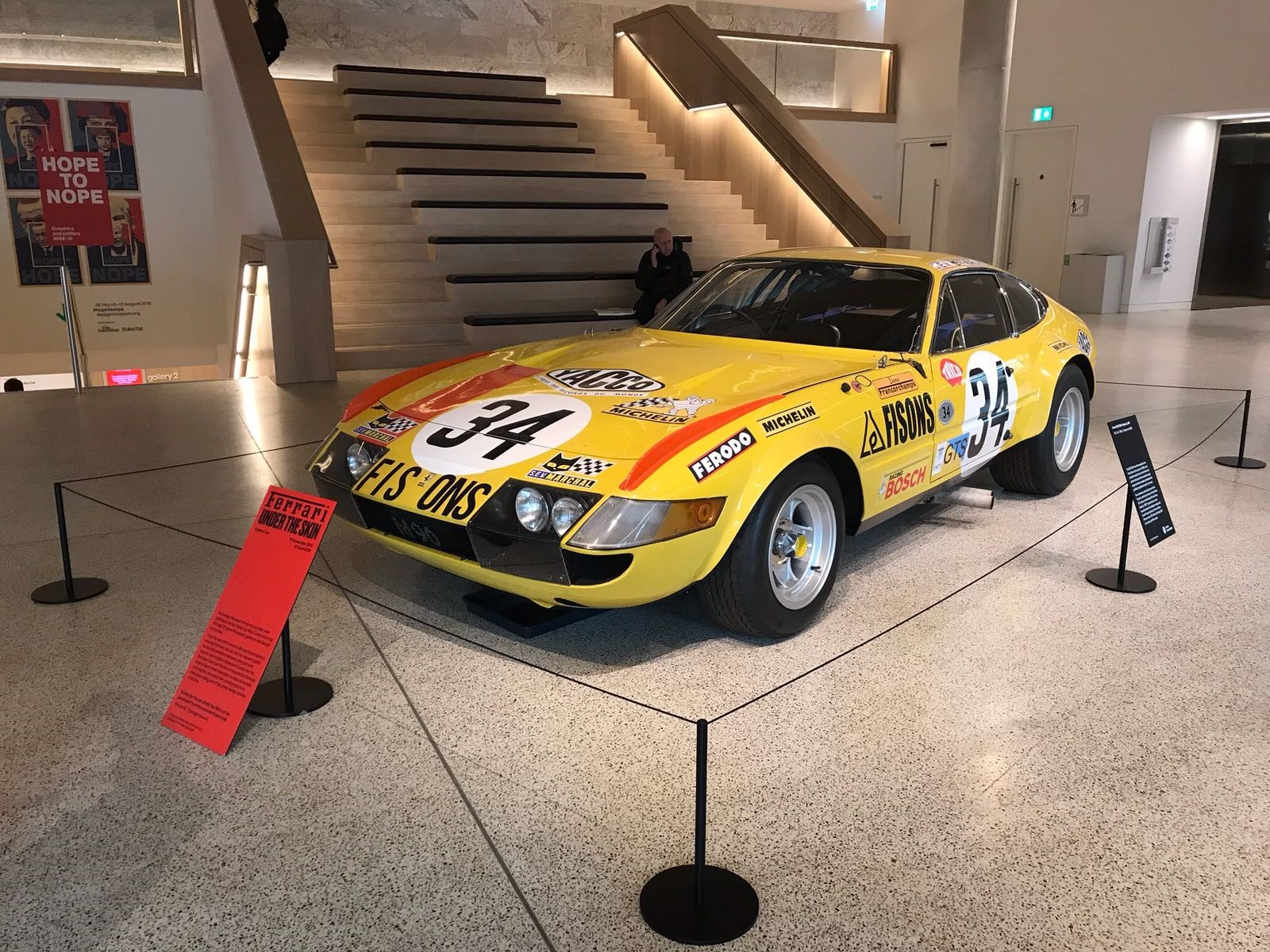 Bold entrance: The Daytona DTB/4 Competizione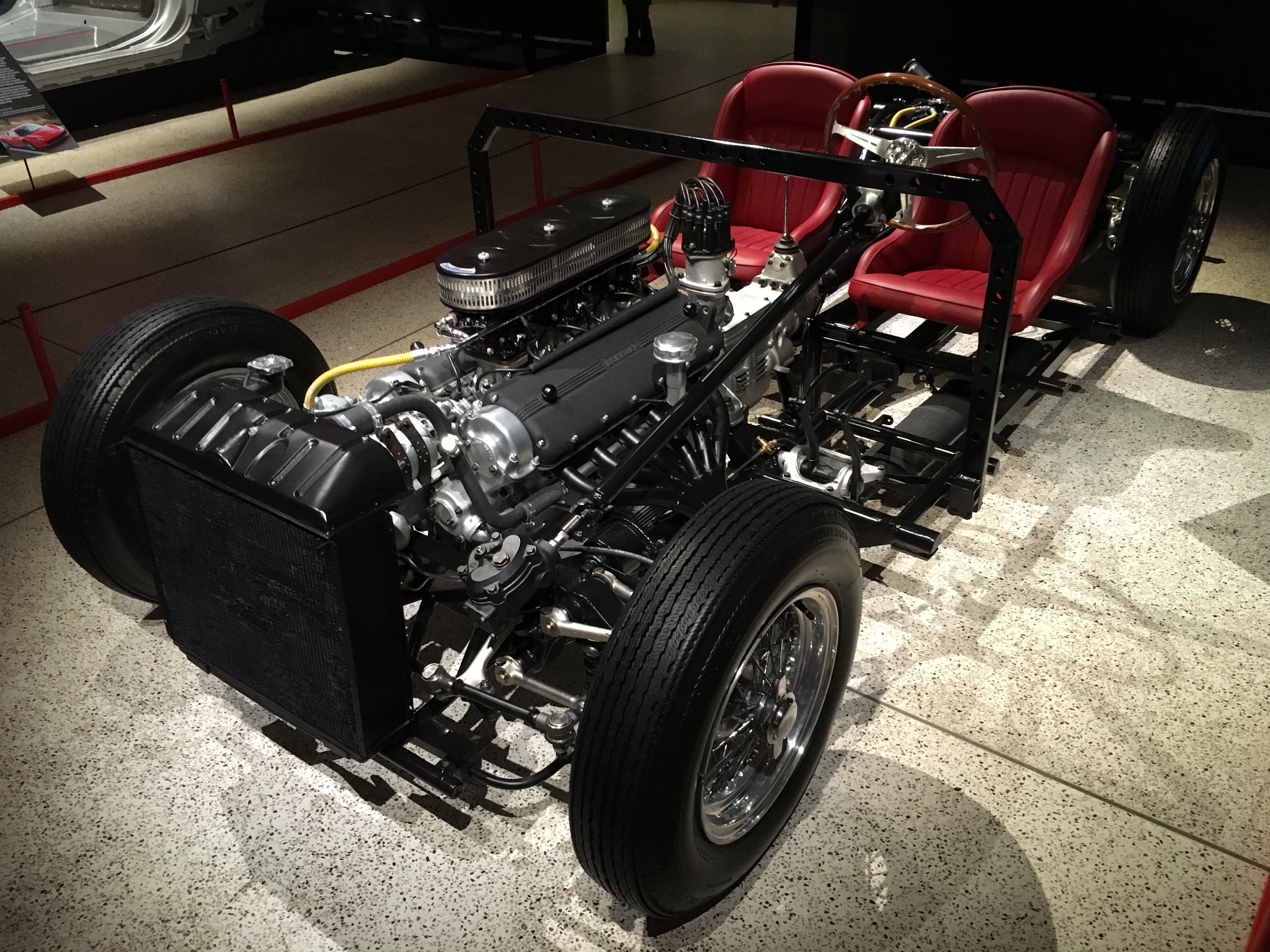 Naked ambition: A 1950s GTO 250 with exposed V12. Jonny's aspirational drive and show highlight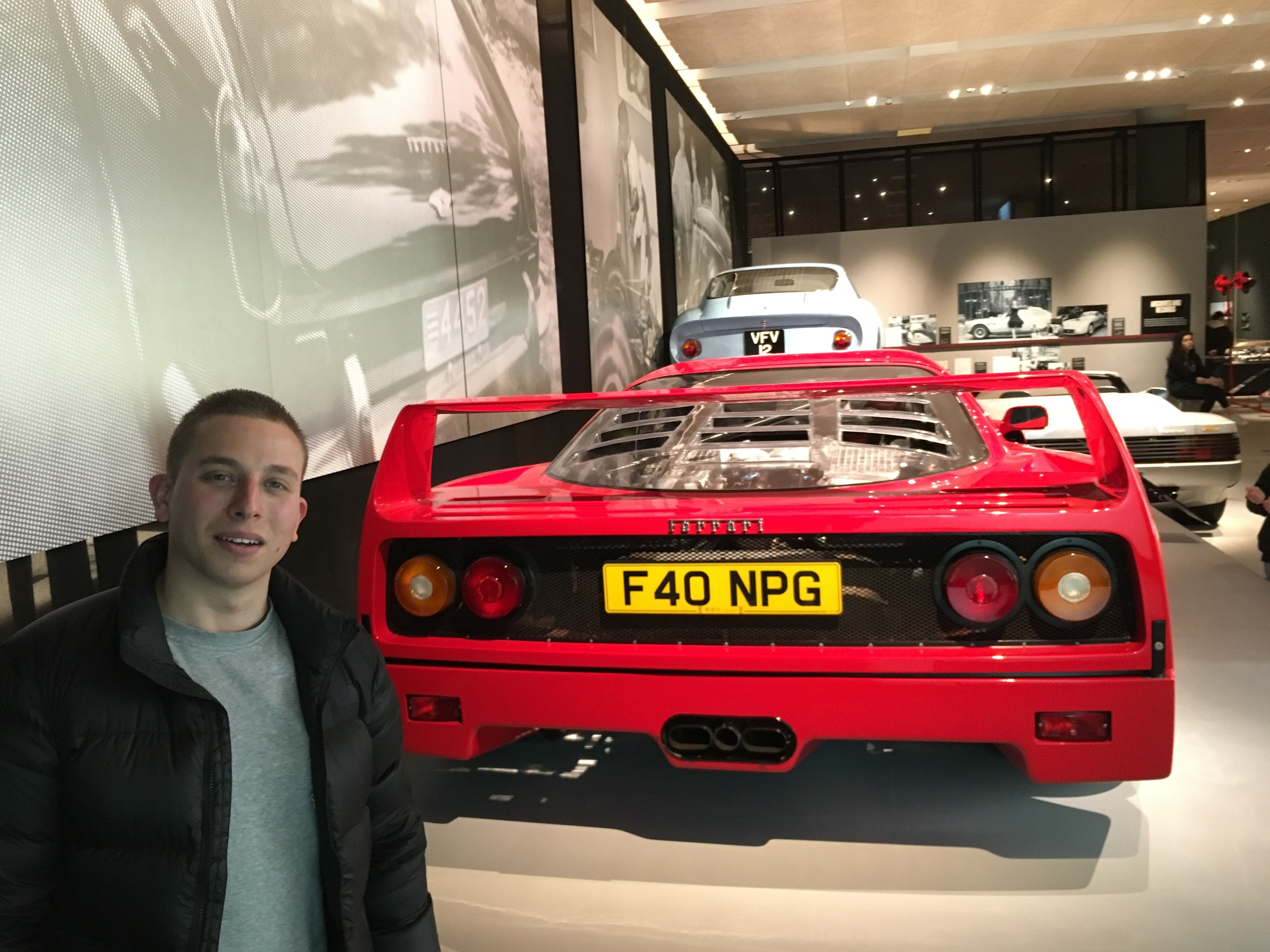 F40 loyalty: ERS' prestige underwriter's love of the F40 was untested at the exhibition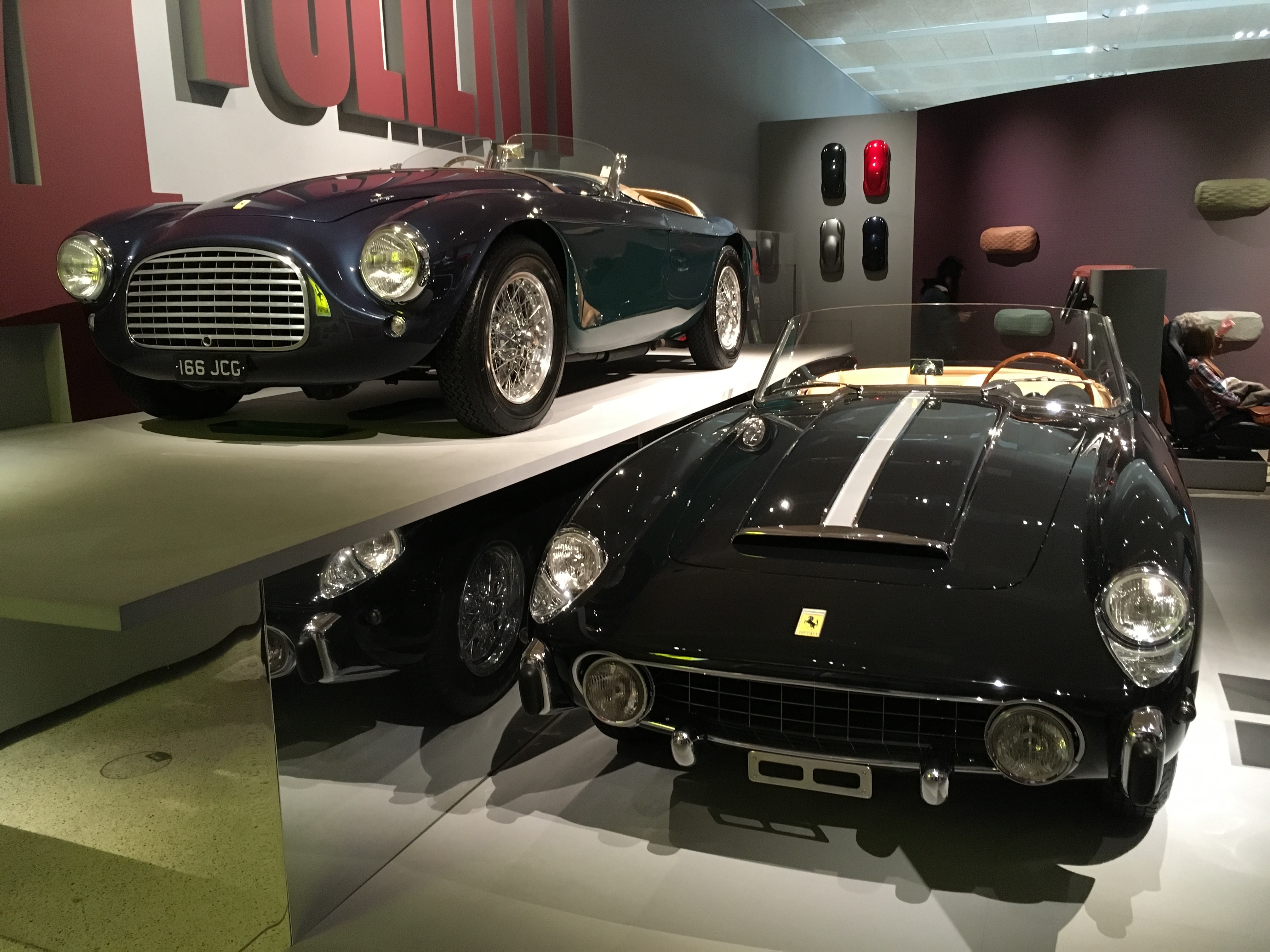 What's your preference?: The Ferrari 166  vs a 250 GT Cabriolet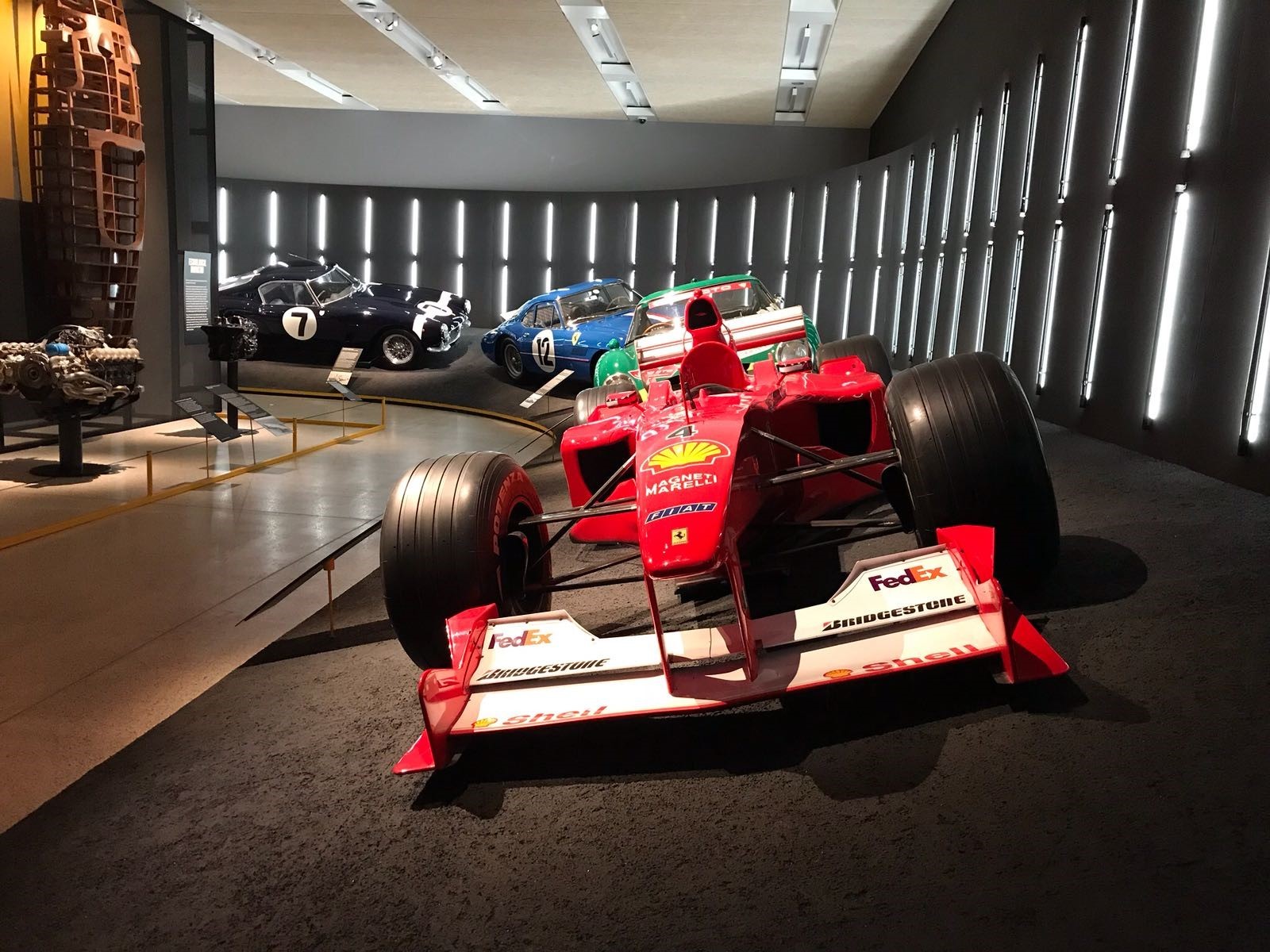 Leader of the pack: Schumacher's winning F1 Ferrari fronts one of the displays 
The ultimate selfie: Sam and Jonny in front of a portrait of Enzo Ferrari