It's official – drive-in cinemas are finally catching on in the UK. We're at least 70 years behind North America, and it's taken a major pandemic to finally usher in this trend, but it's welcome news all the same for cinema-lovers, driving enthusiasts, and basically anyone who is fed up of sitting at home watching Netflix.

In fact, the concept of the drive-in is almost as old as the automobile itself. Outdoor movie screenings for drivers began way back in the 1920s, leading to the creation of dedicated drive-in theatres, which were commonplace throughout the US in the 1950s and 60s before improvements in home entertainment began to dampen their appeal.
However, in recent months many UK organisations have recognised that the drive-in model holds big advantages for anyone looking to entertain customers in a COVID-compliant manner. Consequently, drive-ins are now popping up everywhere. In Northamptonshire, newly launched venture Drive In Films has been attracting nationwide interest; at least six drive-in cinemas are now active in London; there's even one planned for launch in Edinburgh, rewarding Scottish drivers for staying put during several months of stringent travel restrictions.
It's early days for the drive-in movement, particularly in a country that didn't really embrace the concept first time around. However, the evidence suggests that the idea is quickly gaining traction – and not just with cinemas.
Drive-in stand-up comedy is already in the offing, while promoter Live Nation is planning a series of UK-wide drive-in concerts featuring the likes of Ash, Dizzee Rascal and The Lightning Seeds, as well as Gary Numan, an artist well-known for his advocacy of automobiles as a safe haven. We've even heard about one instance of drive-in bingo-cum-silent disco preparing to tour around Dundee in September.
We'd like to give a special mention to a few drive-in's that have us revving with excitement...
Firstly, the efforts of classic and supercar hub Duke of London, which has responded to the pandemic and the challenges of organising in-person enthusiast meetups by creating Duke's Drive-In Cinema at The Brentford Project in West London.
Duke's Drive-In Cinema is dedicated to showing automotive-themed films and is open exclusively to classic and supercar drivers, although a range of classics are also being offered for hire so that no one need miss out on the entertainment. If you've ever wanted to spend an evening watching 2 Fast 2 Furious while sat in a Lamborghini Murcielago, this is probably the event for you!
What we love about Duke's Drive-In Cinema, and indeed all of the examples we've shared, is how they're reinventing the drive-in – a much-loved communal experience of yesteryear – to perfectly suit a moment in which shared experiences are in short supply. And, given the huge problems facing the UK's live entertainment sector, particular its UK theatres and music venues, we're very much hoping that more organisations follow suit and look at how the drive-in format could be adapted to suit their staging needs.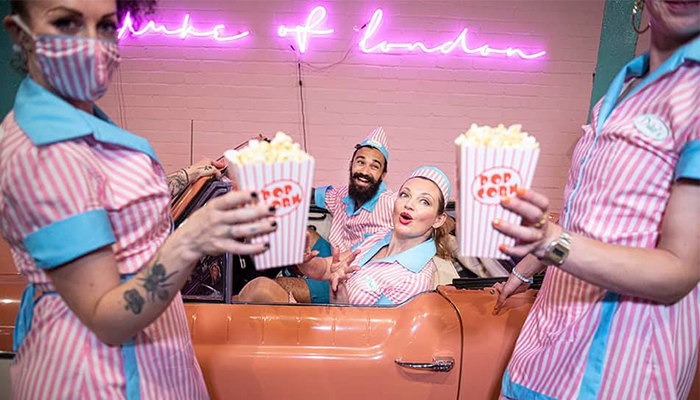 We'd also like to give a shout-out to our friends at Goodwood, who have partnered with Secret Cinema to provide The Drive-In. They launched the attraction with a nod to their passion, showcasing Rush and Disney's Cars and have now released many more films for you to enjoy.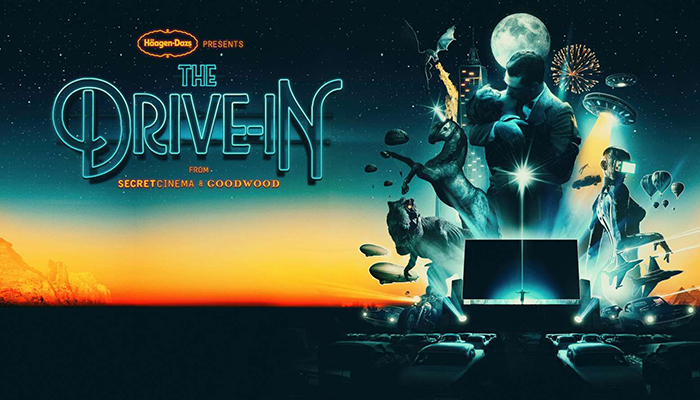 And finally, for the cooking fans out there; Tom Kerridge's Pub in the Park's drive in Garden party. Hosting multiple UK locations to enjoy great food, live music and party in a socially distanced manner.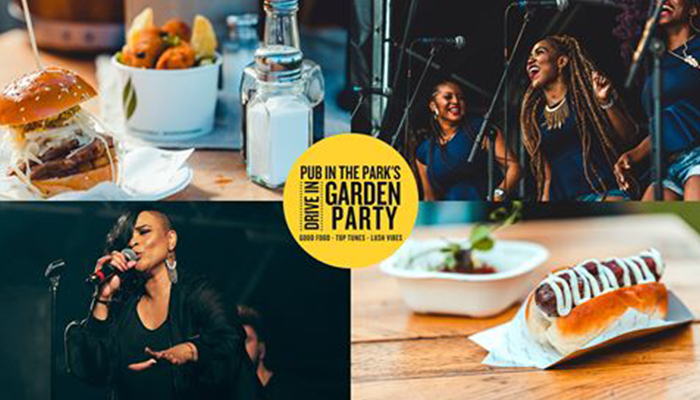 With drive-throughs playing a mission-critical role throughout the pandemic, not just serving up food on the go but helping deliver banking services and even COVID-19 tests, it makes a lot of sense during these difficult times to further extend the use of our cars to leisure and entertainment. After all, Safari Parks have been a part of our culture for years. What we're seeing now is necessity proving once again that it's the mother of invention.
While it's impossible to predict whether drive-ins will stick around for the long-term, one thing's for sure – over the next few months, in-car entertainment is going to get a lot more interesting.
Have we tempted you with the idea of a Drive-In? Why don't you try out one of the spots our Regional Development Managers have recommended across the UK?
Andy Ward | Scotland/Northern Ireland
Let's go hydro - Belfast
Itison drive-in movies – Glasgow
@thedrivein – Edinburgh
Mark Feathers | North East
@thedrivein – Newcastle
Adventure Drive-In cinema and music events - Sheffield
Chris Johnson | North West
Woodside - Birkenhead
Pauline Palmer | Midlands
Luna Cinema at Warwick castle
Paul Cavanagh |City/South Central
The Drive-in cinema at Goodwood

Angus Statham | South West
Adventure drive in – Somerset
Ian Smedley | South East
Dreamland – Margate, Kent
Cinestock cinema, comedy, clubbing and live concerts – South of England Showground

Jamie Brooks | East Anglia
Pop up pictures – Ipswich
Jannine Lee | Strategic Accounts Manager
Utilta's Live from The Drive-In concert series will bring live music back to the UK throughout summer 2020 – Birmingham
The Great British Drive-in - Sandon Hall
Anne-Therese Cromwell | Strategic Accounts Manager
Tom Kerridge's Pub in the Park is launching Drive & Dine Theatre