Ferrari official dealer in the region, Graypaul Nottingham invited car lovers to a stunning showcase of Ferraris through the ages at Belvoir Castle this week.
Attendees were treated to everything from the most iconic marques of the 80s through to an exclusive glimpse of the new Ferrari Alperta – of which only 200 are being made in a showcase marking 70 years of the Italian sports car manufacturer.
Head of business for Graypaul Nottingham, Mario Vignali, said that enjoying the event and the passion of Ferrari with those from the local community and beyond made the event 'extra special'.
Jonny Smith, motoring journalist, car creator and recent Team ERS co-driver at the Gumball 3000 rally earlier this month was also in guest attendance.
We managed to catch up with him at the event for a quick chat.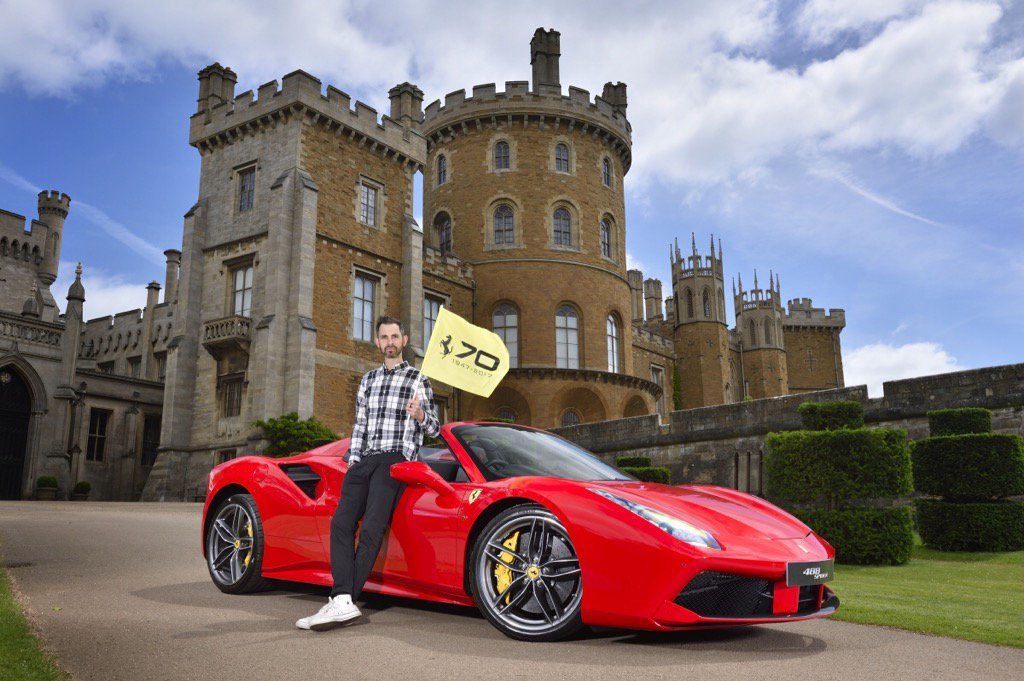 So Jonny – why are you here today?
Graypaul Nottingham invited me to be part of their Ferrari 70th birthday event at Belvoir. It was also the chance to drive one of the 130+ cars, a new GTCLussoT - in other words Ferrari's 4 seater model with rear wheel drive, rear steer and a turbocharged V8 up front.     
What's the best car on show that you've seen here?
There's a decent variety of eras on display here. The 330 probably got my biggest appreciation, but then it's good to see the vast turn out for the controversial 4wd FF model. I'm a fan of non-red Ferraris, so I really appreciated seeing bravely specced cars like the cream coloured 458 Italia. 
Is your dream Ferrari here?  Do you have one?
It's pretty cliché but the F40 is one of those cars you can't fail to admire. It was a car to mark Ferrari's 40th birthday and I am old enough to remember the huge effect it had on the car world back then. Athena sold more F40 posters than anything else in the '80s I reckon. Is it my favourite Ferrari? I don't know. Hard decision. The 166 MM is probably the most achingly gorgeous car. There's an unrestored one that gets thrashed by its owner regularly.  
I've never owned a Ferrari. The only Italian car I currently own is a Fiat 126 in Ferrari Rosso red. Fiat own Ferrari so it's close...!
I have a little idea to buy a ratty Ferrari 400 (the one no-one likes!), sell the V12 engine and turn one into a hot rod with some 800+bhp V8 turbo motor from a Lexus. It would cause outrage, but I'd relish it.  
Any interesting owners or personalities that you've met today or any enthusiasts stories exchanged?
Well, I've met a lot of genuinely interesting Ferrari owners who clearly put miles on their cars rather than mothballing them. I like that. Cars are there to be used, regardless of worth. Today's event celebrates driving and also - crucially - sharing the exotic cars with others. I love seeing people letting others touch/sit in their cars and really create lasting memories. 

How would you sum up the GTC4Lusso T in one sentence
It's the practical family Ferrari, but still with enormous firepower. 

How does driving the GTC4Lusso T compare to the F430 on the Gumball?
This is a new car, so no wear and tear. This is cutting edge Ferrari tech, so much more powerful, far more responsive and with a sat nav that doesn't resemble a Gameboy! The 430 is still a proper driver's car, but certainly slower than the GTC4Lusso T.
What are your thoughts on the new Laferrari Aperta?
Only about 200 will be made worldwide, so seeing a £3 million 950hp hypercar is always an event, especially seeing it get driven. I like seeing the faces of the enthusiasts and kids when cars like this roll up. 
Anything else in Graypaul's showroom that you've got your eye on?
Some lovely Ferrari model engines on display. A very good quality coffee machine. Oh, and a 288 GTO for a cool £2.3 million. To be honest the new 812 Superfast that they tugged the sheets off is pretty damn special.  Only the Italians would call a car a 'superfast' without irony.

Finally, 70 years on what do you think is behind Ferrari's enduring appeal?
Ferrari is the king of merchandise, carrot dangling with the next new model, and also deciding who should own its cars! By doing the latter it means - rightly or wrongly - that just because you can afford to buy one you still may not be able to buy one from them.