Goodwood's Breakfast Clubs have become more than just a way to guide bleary-eyed folk to their café at weekends – it has become a fully-fledged pilgrimage for the most exotic cars in Great Britain.

On Sunday I joined ERS at Chichester's world-famous motor circuit, steeped in history back to 1948. Sterling Moss, Graham Hill, John Surtees, Jim Clark and countless others raced wheel to wheel here until the circuit closed its gates in '66.
It was resurrected and reopened in 1998 – 50 years after its original birth – and the rest of the story you probably already know. You've heard of the Festival of Speed, the Revival and the Member's Meeting. Goodwood is sacred tarmac, restored to feel as though you are stepping back in time.
All of this is precisely why I joined ERS (and over 15,000 others) at silly o'clock to head to its Supercar Sunday event last weekend to gaze at 500+ exotic cars – including a colourful carnival of V8s, V10s and V12s sweating inside bright bodyshells as they waited for one another to park-up.
The sunny weather was textbook perfect, the cars gloriously unsubtle and impractical, and you could see the memories being made through every kid's eyes.
And that's the thing – the Breakfast Club is a free event with no set agenda apart from to gawp at wonderfully OTT machinery whilst enjoying a coffee and bacon butty courtesy of ERS and its car-savvy underwriters.
I'm fortunate enough to be the first car on the grid in my Mercedes AMG GTR, but within 10-minutes of shutting off its twin turbo V8 we're surrounded by fast rarities. It's like being teleported into the Forza game. Owners chat to other owners. People finally get to see their dream vehicle in the metal/composite and there's more strain on the 4G network through photos being uploaded to social media than my brain can imagine.
Supercar Sunday certainly lived up to its name. Here are a few of my personal highlights from the cars on display;
McLaren P1 GTR

My favourite looking McLaren. It was also the most expensive at £900,000. Until the GTR version came out – priced at a cool £1.1 million more. This P1 GTR pulled into the Breakfast Club being driven by a lady wearing the full comms headset to talk to her passenger. That expanse of mesh over the rear end exposes its engineering excellence, finished off by the ribbon of LED lights. Furthermore, to buy one of these 986bhp hybrids you had to already be an owner of the regular P1. Gulp.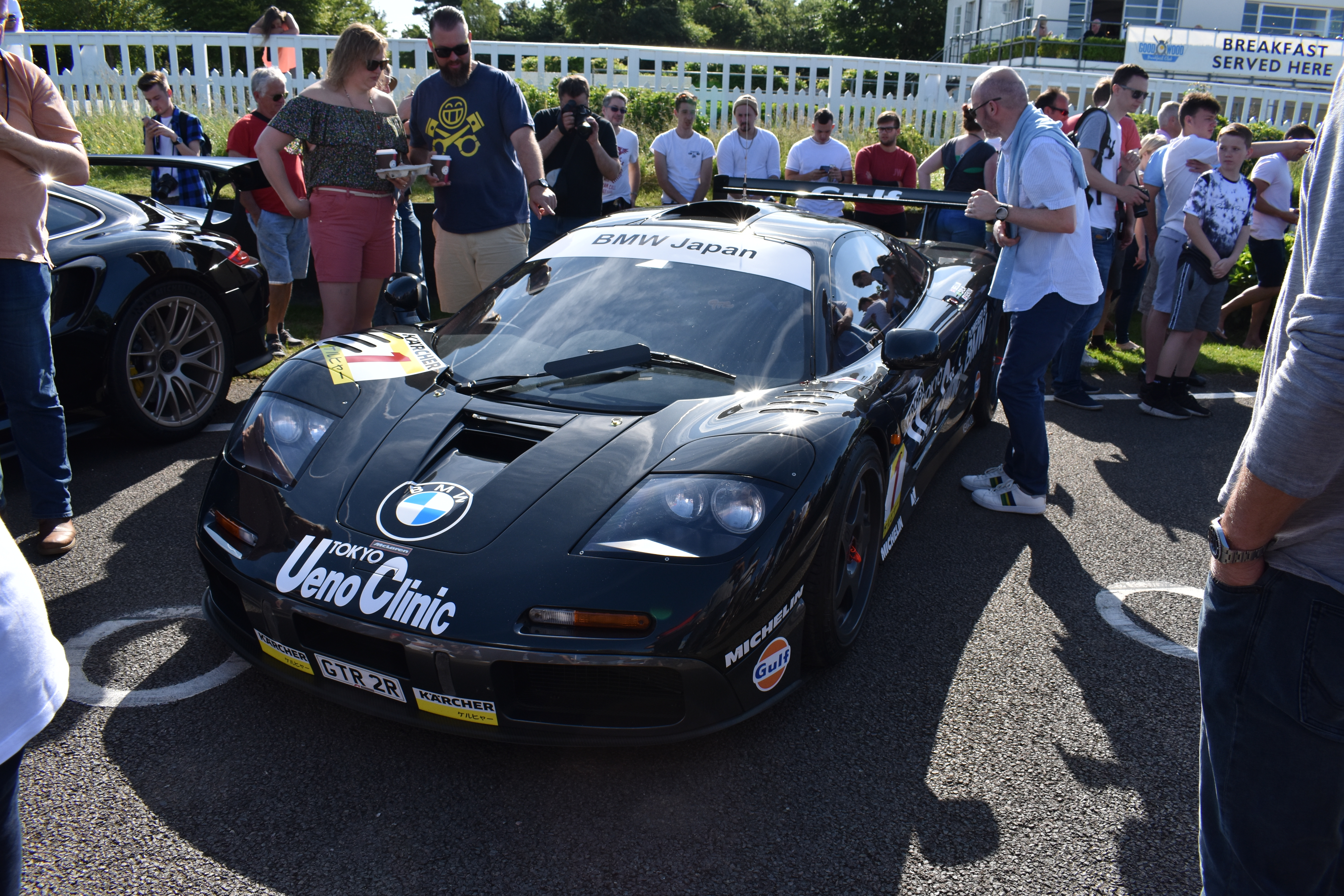 Rare: The McLaren P1 GTR
McLaren F1 GTR
Seeing any flavour of McLaren F1 out in the wild is a rare treat, but when a pair of F1 GTR models drove past me to the grid I nearly dropped my pastry. If you wanted to buy one, I don't think you'd pay less than £12 million for what are road legal fully fledged race car versions of an already sensational supercar. It was the fastest car in the world remember.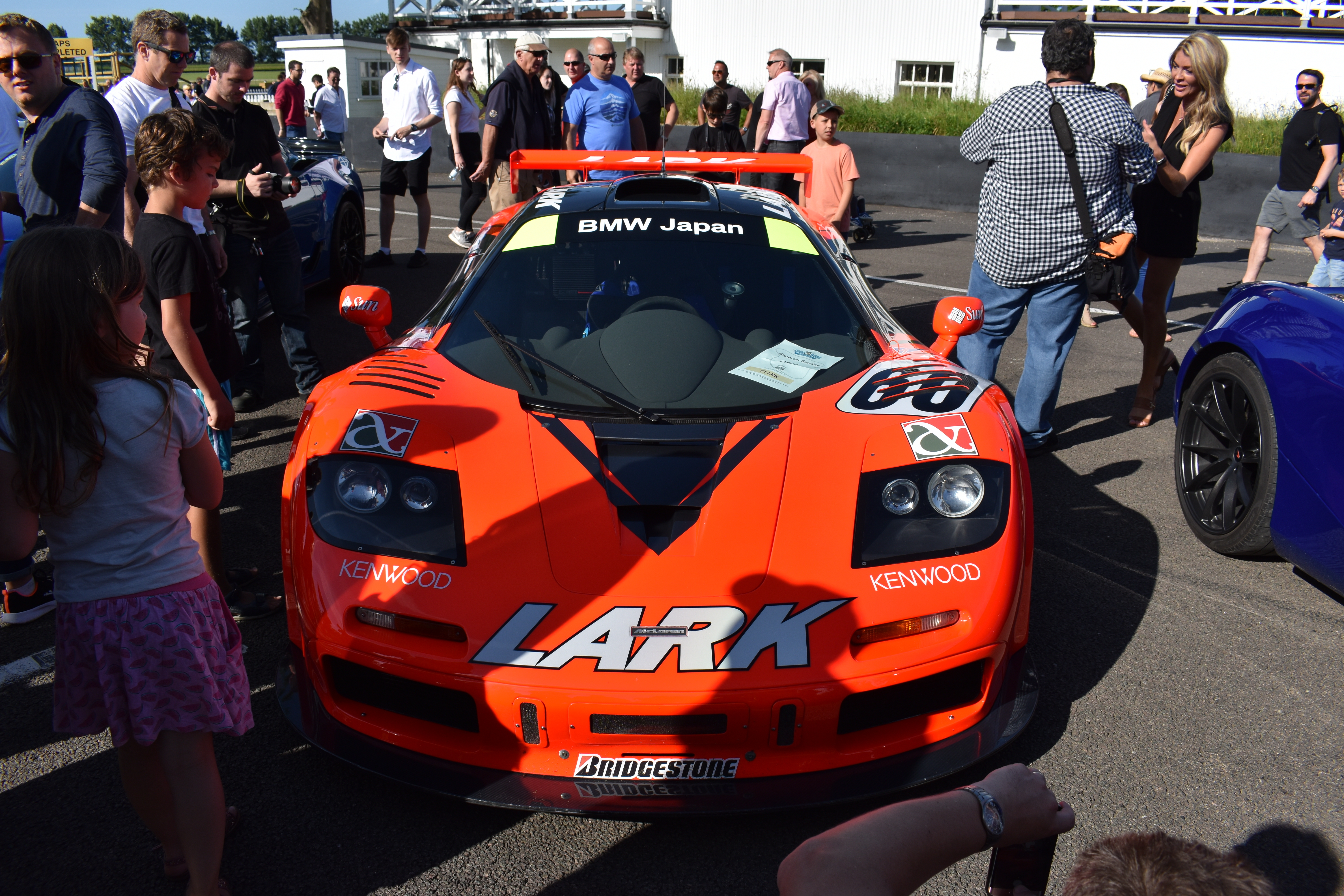 Backstory: This McLaren F1 racer was also previously driven by Ralph Schumacher
Maserati Khamsin  
Maseratis of the '60s and '70s just looked superb. I couldn't walk past this Khamsin without eyeing up its perfect proportions. I especially like the shallow roofline, pop-up headlights and that neat rear window in the tail light panel. Designed by the same bloke who drew the Lambo Countach (Marcello Gandini) in 9 years of production they only made about 430.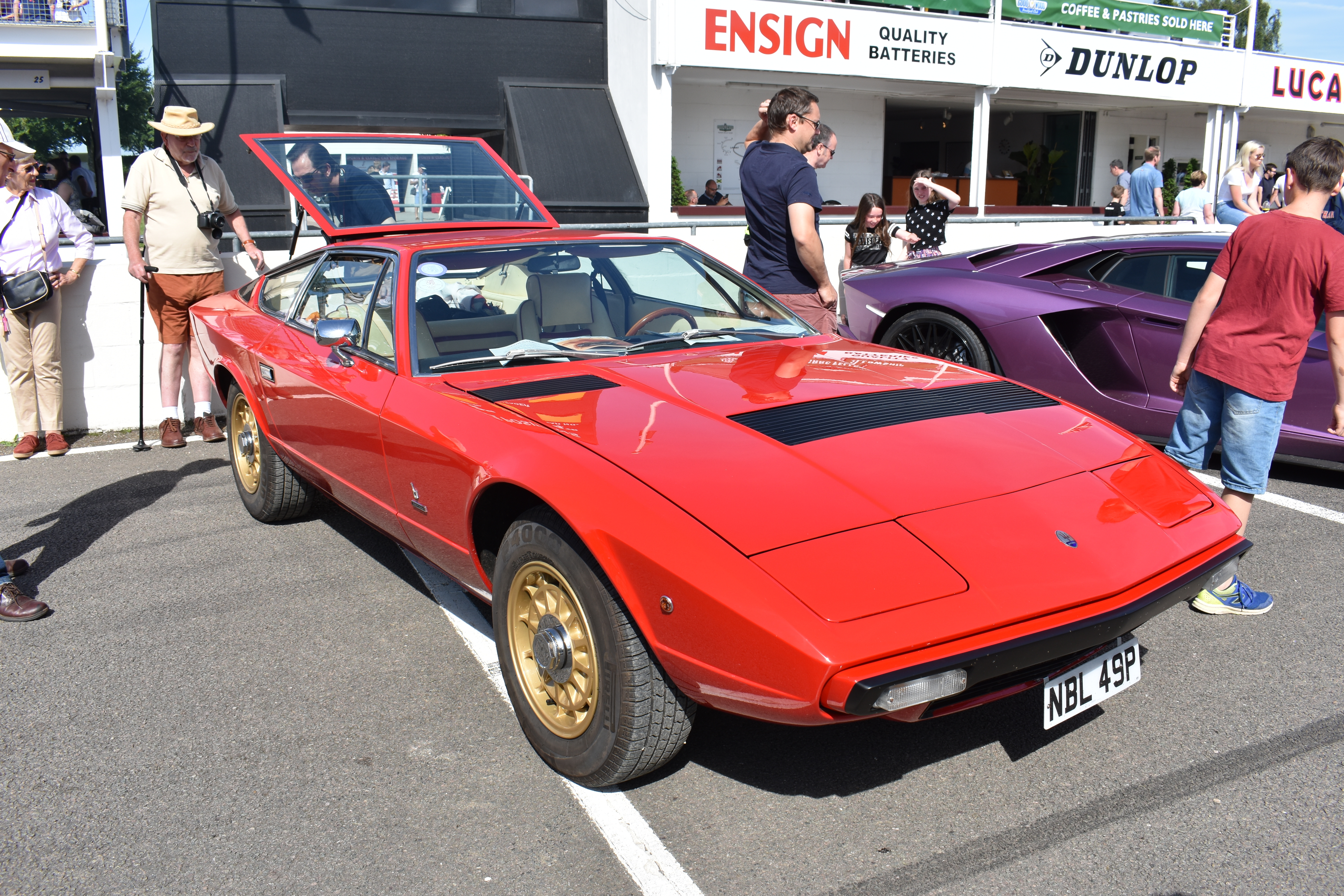 Cult classic: A Maserati Khamsin
Kid's Porsche go-kart thing! 
I (almost literally) stumbled across this on the grid and have absolutely no idea whether it is scratch built or not, but I loved it. Based on a kart chassis, the 934 911 Porsche had the iconic stripes, the wide arches and, more than likely, a lawn mower engine. I love stuff like this, because it's important to get the young generation involved.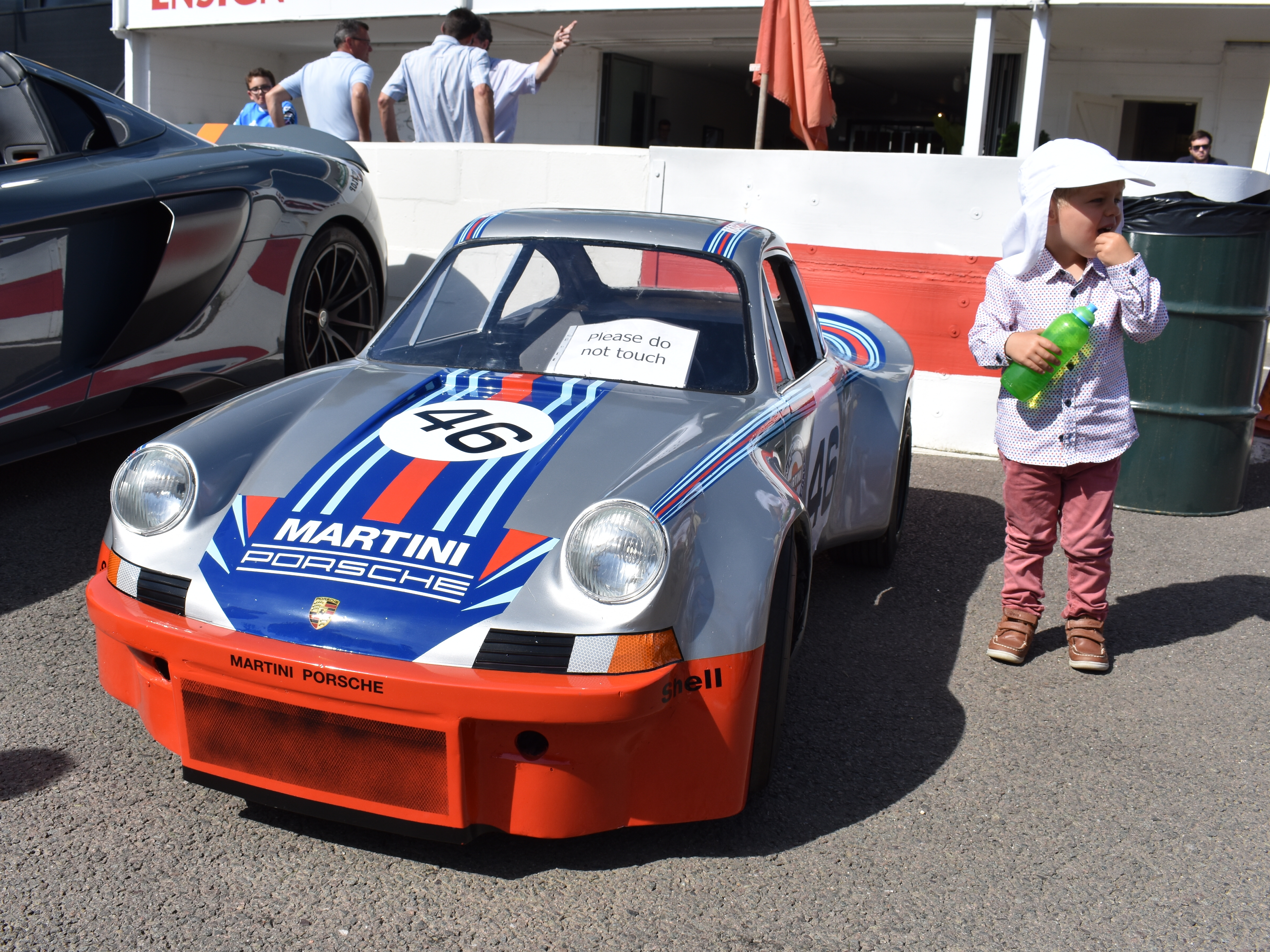 Start them young: A go-kart Porsche
TVR Cerbera
I've missed TVRs. They're promising great things with their return with a new Griffith, but for me these Cerberas were the best looking and sounding of the bunch. Famously feisty to drive, notoriously unreliable and badly bolted together in Blackpool, but captures the essence of a hairy-chested sports car. And in purple? "Oh hello '90s…"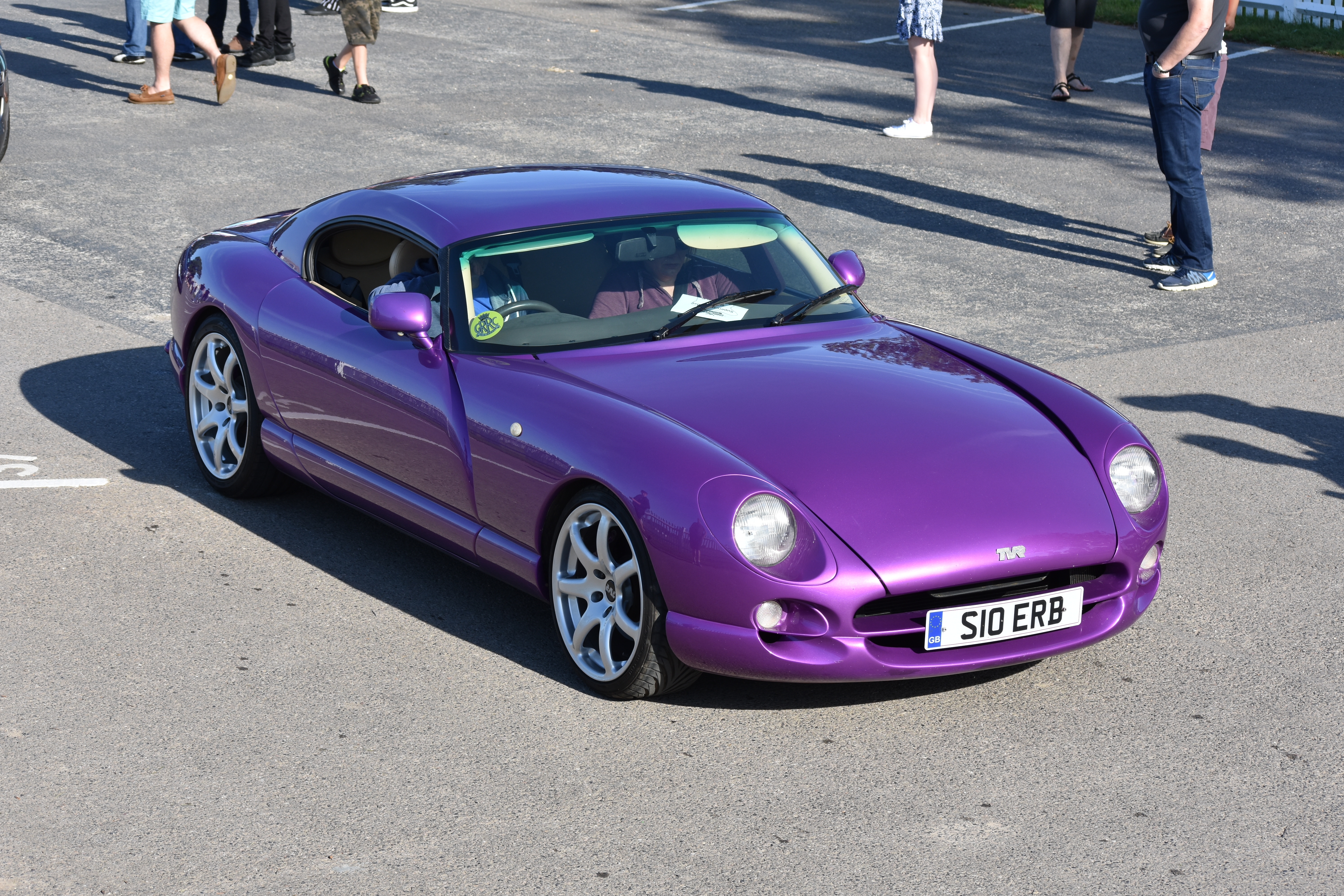 90s heyday: The Porsche TVR Cerbera
Dodge Viper GTS  
A viper is a snake that can easily bite you. A Viper is a car that bit me quite badly a few years ago. As such I am terrified of them and try not to make eye contact with one, but it can't be denied how brutally handsome they are. I counted about 4 at the Goodwood meet, but the GTS was my favourite version. Like the Corvette, this is unashamedly overpowered and made from glassfibre resin, but it has a personality. OTT and completely impractical, it's why we're all stood around smiling at it.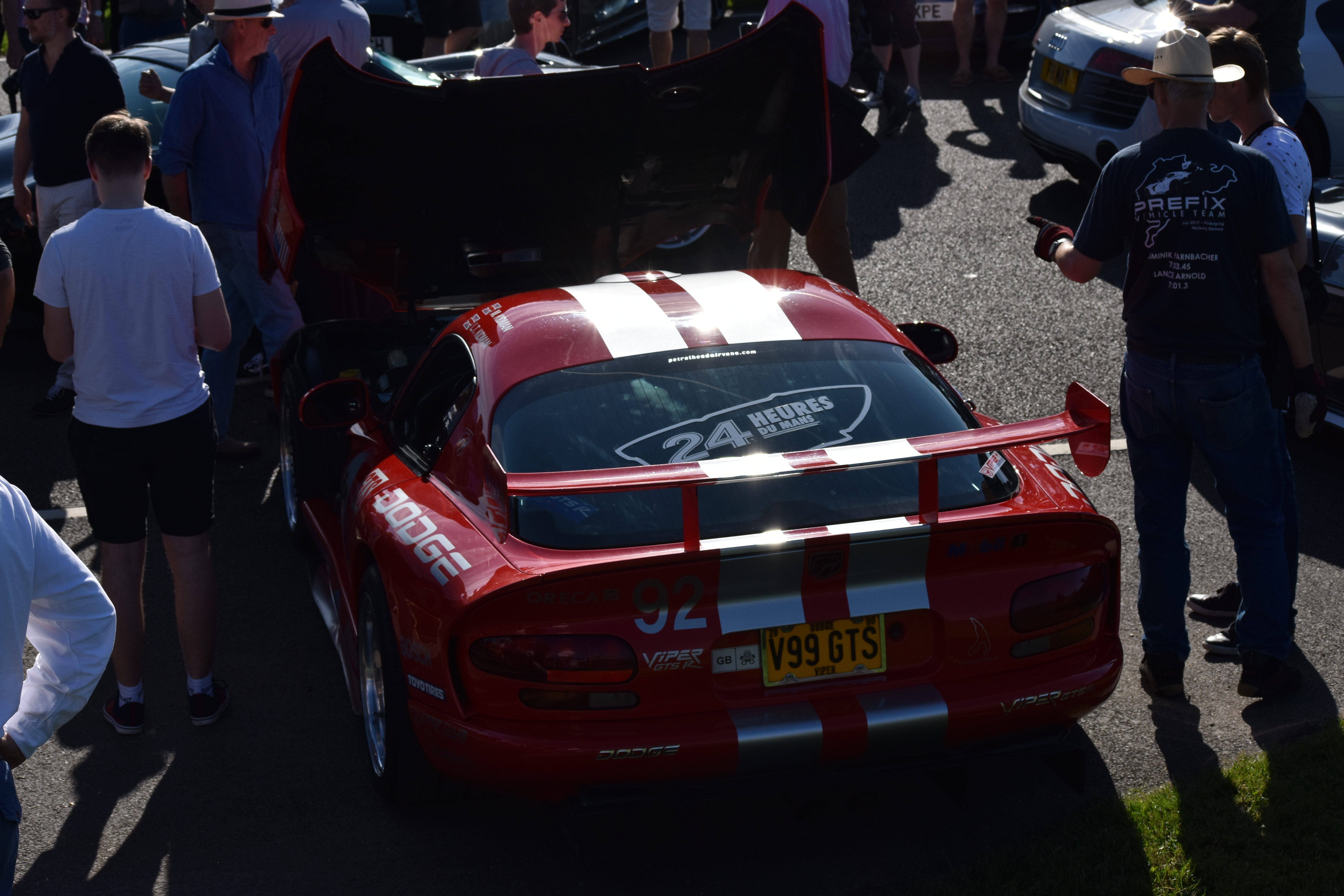 Once bitten: The Dodge Viper GTS
Mercedes AMG GTR
Ok, perhaps I'm a tad biased because I drove it there, but the GTR version of the AMG GT takes this thing from sports to supercar. Wider track, stiffer suspension, quicker steering – it drives so urgently and fidgety demanding your full attention and I LOVE that. Also, I love the Green Hell Magno Matte paint. A £7500 option I'll have you know.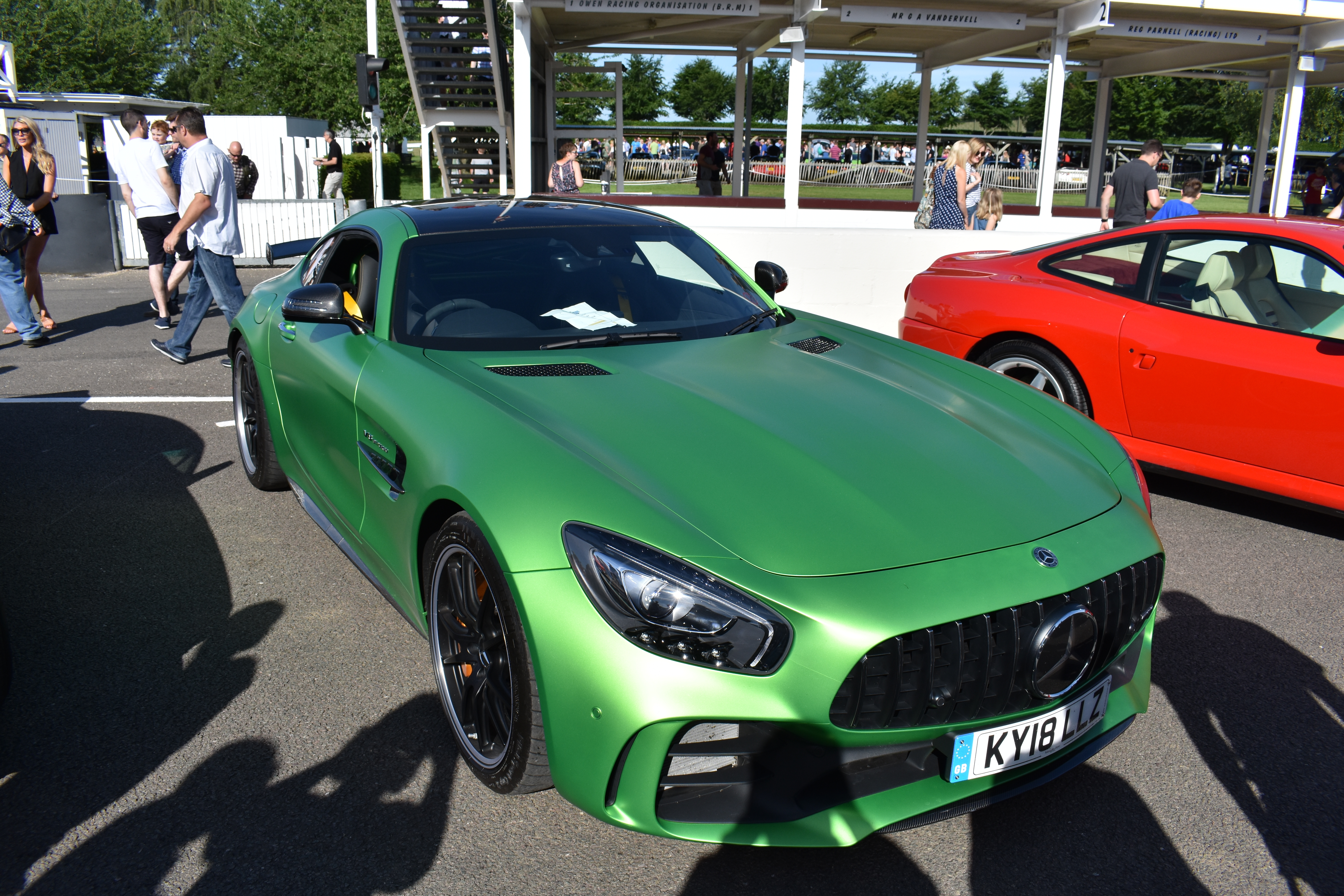 Commands attention: Jonny's Mercedes
Singer Porsche 911 964
Subtly parked off the main track display, I suspect it didn't register with many, but I noticed the central bonnet mounted fuel filler and wide arches. Singer is a California-based 911 coachbuilder led by Brit Rob Dickenson. The cars he turns out are regarded as the cream of the classic 911 world. The order book is always full, each car starts as a 964 model and is retro fitted with older 911 aesthetics, along with more modern flat-six engines. This one had a 4.0. Value? About £500k. It was right hand drive too.
Porsche 911 991 GT3 Touring
Aka the wingless wonder. I noticed two at the meeting. I love these because the GT3 is probably the most enjoyable 911 to drive (no turbos, amazing chassis) but the Touring deletes the Marvel comic rear wing and lets you choose a manual gearbox to shift through the screaming 4.0 500bhp engine. All the race car feeling without the Power Ranger suit.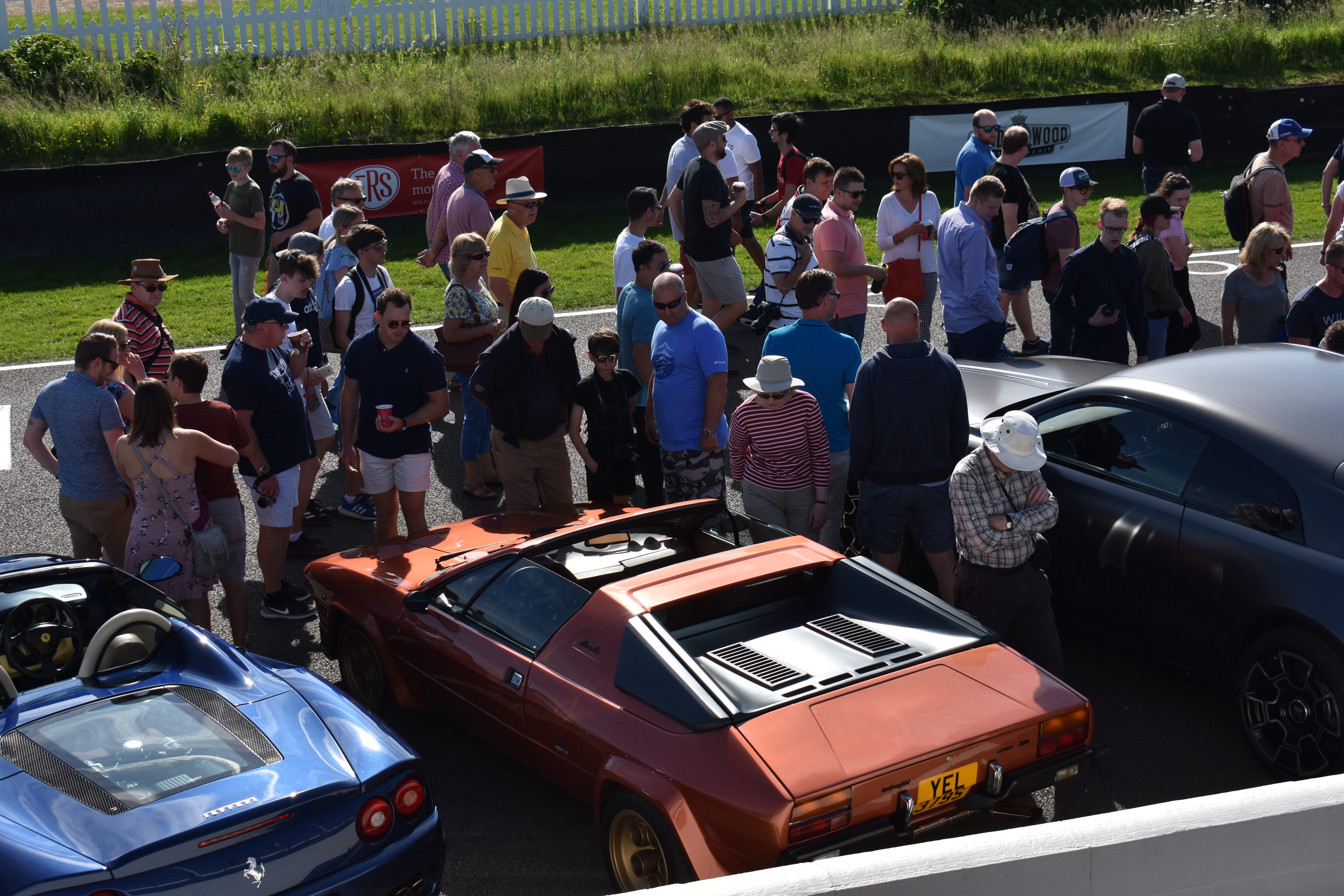 Classic appreciation: Visitors admire a classic Lamborghini Silhouette

Dates for Goodwood's remaining Breakfast Club events are as follows: August 5th; October 7th; November 4th.