After a break in 2020, the modified car show season is ramping up as we see the return of some of the largest modifications' exhibitions outside and safely inside, as some restrictions are starting to lift.

ERS Senior Underwriter Alan Bradbury attended the 2021 Modified Nationals Show, UK's largest modified car event with his son to see some of the show cars up close on a Sunday afternoon.
The modified scene returns… rain or shine
"I bet he's going…" was said quite a few times as my son and I took the early morning drive up the M11 to Peterborough for the 2021 Modified Nationals Show. We saw several modified cars on the road that morning – a common Sunday morning sight on Britain's roads in show season! It was hard to tell if the weather would hold out, but after a year of not attending any car shows, a drop of rain wasn't going to stop me, or the thousands that made the trip over the weekend. Modified Nationals is one of the largest modified car events in the UK and has been going for years, bringing together enthusiasts from the full spectrum of the modified car world.
Differences in modified cars between then and now
Back in the day it was very much the Max Power brigade with Saxo's, Astra's and Fiesta's that attended these shows. Most had distinctive paint jobs, numerous exhausts, huge sound systems and bespoke body kits. That still exists to a degree, although it was evident that the modifying scene has almost 'grown up' – clearly cars have evolved over the years and become faster, more powerful and filled to the brim with tech, almost making it harder for modifying companies to provide a choice of mods to tempt us away from our hard-earned cash. It does feel to me these days, the scene has moved more towards cosmetic mods, certainly on the newer cars, such as air-ride suspension, bespoke vinyl wraps/paint and carbon fibre panels. Of course there are many companies still providing remapping services, upgraded exhausts, intercoolers, induction kits, etc, but with the way emissions are coming under more scrutiny, it's difficult to say if performance mods will be harder to come by in the future (plus the change to electric coming in which is undoubtedly impact on some modification companies).
A few stunning standouts
When the gates opened to the public, we were greeted with a huge arena of modified cars, old and new, with some familiar faces – cars which have been on the modifying circuit for a number of years (for example, the Carisma TVR Cerbera and the Max Power inspired Vauxhall Astra Coupe). Inside the main building was the cream of the modifying world – pristine examples from Japanese and German manufacturers such as Nissan, BMW and Porsche – a stunning Skyline GTR particularly stood out to me and would easily command a 6-figure price tag. There was an amazing Rothmans Porsche and a beautiful 1970's Audi 100 which also caught my eye. Was pleasing to see older modified cars in this collection too, suggesting that it's not just modern cars that get modified.
Outside the main building though, is where the 'real' enthusiasts show off their pride and joys – a real eclectic mix of hot hatches, classic 'resto-mods' and even some modified American cars and trucks. Many of the trade stands pitched up outside alongside the numerous car clubs and food outlets. One of our specialist modified brokers, held a prominent spot on the main concourse with a number of cars including their own track-prepared Ford Focus and Rich Fox's highly modified Focus RS, which certainly drew in the crowds – in fact I don't think I've ever seen a more modified Focus! Many enthusiasts had bravely camped over the weekend and there were some weary faces (given that England had won the football the previous night!) – that said, the atmosphere was buzzing and even a sudden downpour didn't dampen the spirits.
Ford Focus RS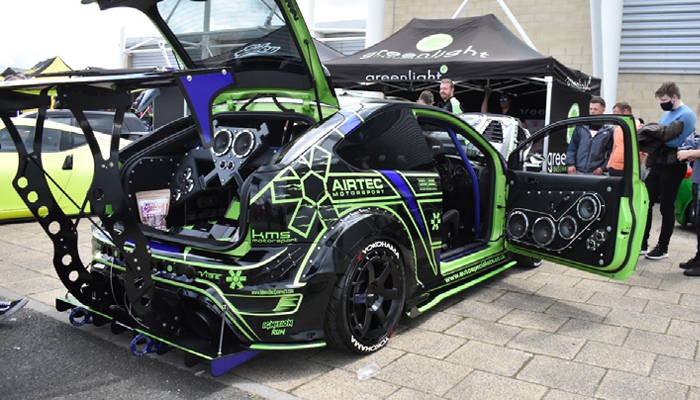 Rothman's Porsche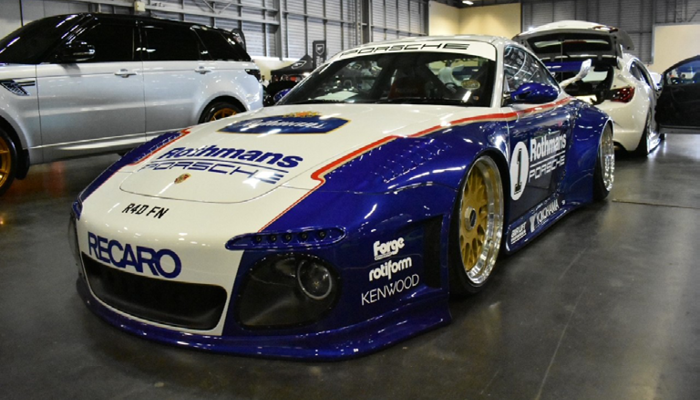 Classic Audi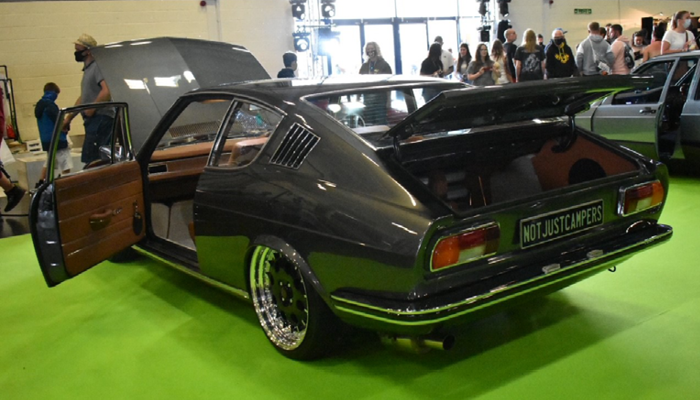 Carisma TVR Cerbera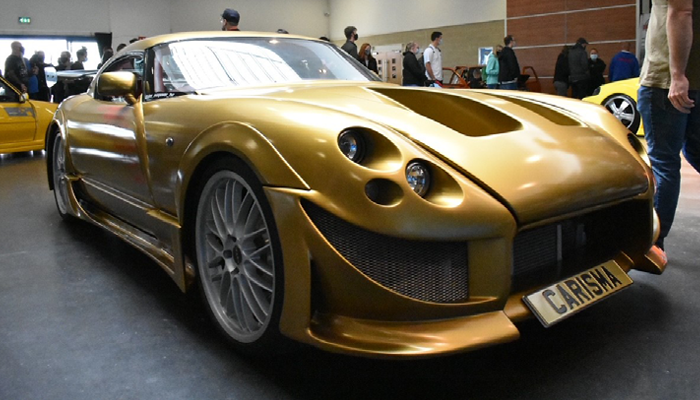 Overall, it was a great show and nice to see that COVID-19 hadn't stopped this taking place for a second year! The modifying scene is alive and kicking!
Modified vehicles are an Enthusiast's passion and come with their own specialist complexities. If you're looking for a Modified or Imported quote email modandimportquotes@ers.com or call 0345 600 3890