Analysing the true performance of the UK motor market has been exceptionally difficult since the onset of the pandemic. Significantly reduced road usage, aligned with fundamental changes to both consumer and commercial behaviours, have distorted the overall market picture and led many insurers to reduce their rates.
Many of these dynamics are short term in nature and now, following nearly two years of Covid-impacted performance which has led some insurers to chase volume by reducing rates, Ernst & Young has predicted that the motor market's average Combined Operating Ratio in 2022 will be 112%, a level of loss-making that is fundamentally unsustainable, and will have to be remedied with significant rate rises.
ERS Active Underwriter, Martin Hall, explains why rate increases are inevitable this year, and why many current industry practices will have to change.

A second year of Covid challenges
Aggressive competition has led to under-pricing
Commercial and Personal Motor impacted
Agriculture and electric vehicle opportunities
Following an unprecedented year of disruption and uncertainty in 2020, the pandemic has continued to depress large sections of the Personal and Commercial motor insurance market.
There's been a 16% decline in licenced taxis on the road and a 6% decrease in licenced operators and drivers. ERS has seen a reduction in passenger-carrying vehicles on the roads, from taxis taking children to school or families to the airport or minibuses taking groups of people on day trips or collecting friends from a night out. Drivers have been forced to seek out alternative ways to earn money away from their traditional cab.
Additionally, the number of new vehicles on the road has been reduced due to the low availability of electronic chips, with particular impact on the availability of new supercars. The result has been that the second-hand car market has seen huge demand in 2021, accompanied by considerable price increases.
ERS Opinion
With so many areas of Personal and Commercial motor insurance impacted by the pandemic, the market has become extremely competitive as some insurers have reduced their rates using unlikely-to-be-repeated Covid and lockdown performance data. Assuming that there are no further lengthy lockdowns, which is looking less and less likely, this is going to put those insurers under pressure in 2022 as traffic returns to pre-Covid levels alongside claims inflation, leaving the requirement to increase rates.
Throughout this period, ERS has been careful not to chase the market, even if this has meant declining new business as we believe in underwriting discipline, writing for profit, not volume. Instead, we have maintained stability and consistency around pricing, and continued to support our existing customers as the challenging Covid conditions have persisted, by waiving excess, allowing businesses to switch cover levels, and providing free courtesy cars.
We have also been able to make considerable inroads in Agriculture and farming industries, where our competitors have been struggling following years of underfunded rates, and within the rapidly growing market for electric vehicles, a strong example of where our underwriting expertise and access to specialist breakdown partners is enabling us to cater for changing risk profiles.

Rate increases & claims inflation
Double-digit increases expected
Long-term care costs
Whiplash Reform impact
With many insurers translating improved claims frequencies due to Covid into rate reductions, significant areas of the market are currently underfunded. Private car rates are at their lowest level since 2015. Similarly, there are plenty of examples of Fleet risks being priced under the burning cost rate, without adequate funding for large losses.
A significant correction is anticipated in 2022, and in a recent survey of more than 300 of our brokers, more than half believe rates will rise by 5-10% with around one quarter anticipating a rate increase of between 11% and 20%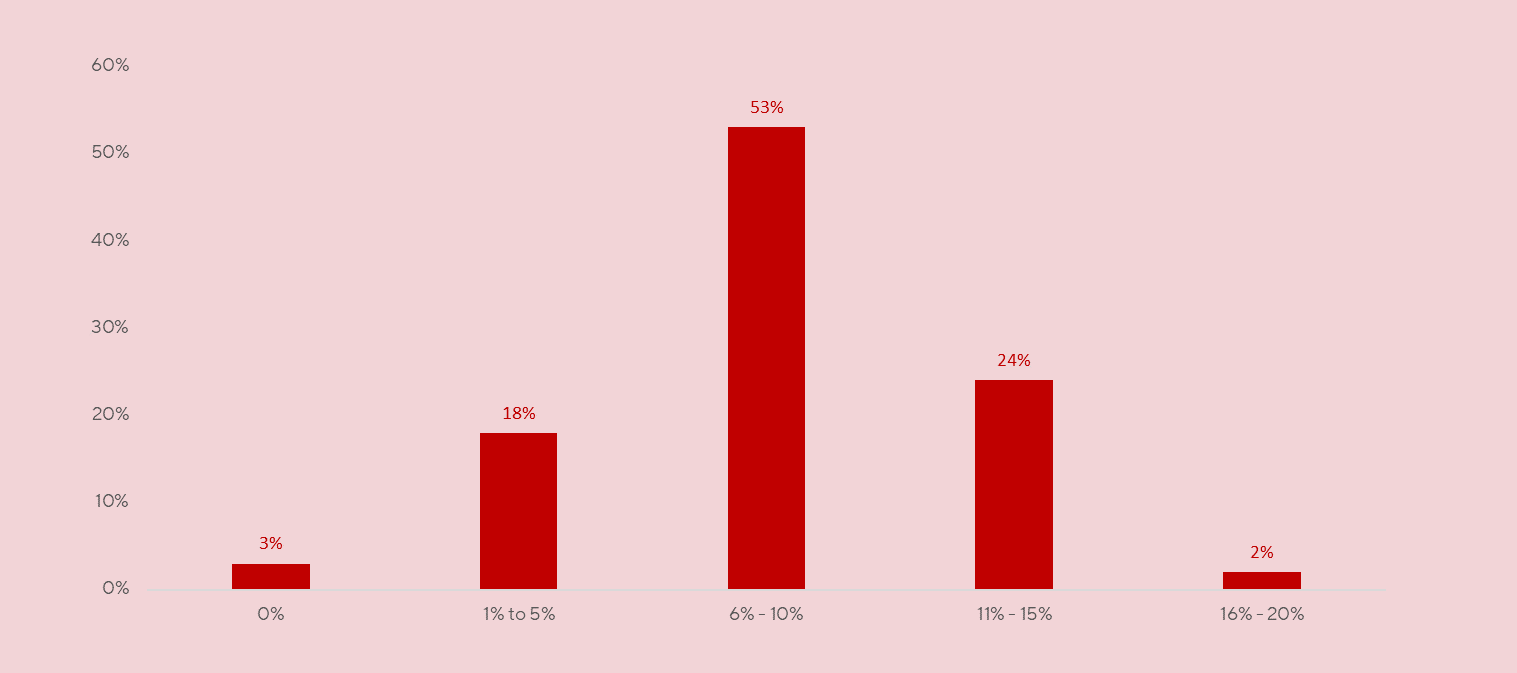 Other factors likely to increase rates include second-hand car values, which have risen by 15% due to the reduction in new car availability, albeit with a recent slowing in the acceleration of trade values. The market has also seen an increase in overall repair costs, associated with the higher number of electric vehicles on the road.
From a claims inflation perspective, the costs of long-term care have increased due to labour market shortages, care resourcing pressures and an ageing population. The ONS estimates this increase at 2.5% year-on-year, whereas the market is suggesting a 10% rise – either way, this will have a bearing on claims costs in 2022.
Since the Government's Whiplash Reform and the launch of the OIC portal, ERS has seen a reduction in PI claims volumes for small personal injury claims. While the long-term impact of the reform is yet to be established, most of the market is anticipating that claims volumes and severity for these claims types will reduce.
ERS Opinion
EY is forecasting the average Combined Operating Ratio of motor insurers to be 112% in 2022 without rating adjustments, making significant rate increases seem all but inevitable, particularly when factoring in claims inflation - typically a minimum of 6% per annum.
Much of the fallout from these predicted rate hikes will sit on brokers' shoulders as they have to relay the increases to customers. Another factor is the ramifications of insurers' reinsurance renewal negotiations which, due to premium reductions, will have had an impact for some insurers on the price of future reinsurance. We have already seen some exits in the market where insurers have been hit hard by their reinsurers.
The reduction in personal injury claims volumes could be an indicator that the Government's Whiplash Reform is having its intended effect, although it could also be a consequence of delays linked to OIC portal issues. We are also yet to see the impact of the OIC portal on rehabilitation and credit hire costs. Most of the market has already priced in an anticipated lower level of claims inflation, which could been seen as a brave approach to take.
In 2021 we made a conscious decision not to compete on many occasions due to the unsustainable rate reductions. Consequently, while we're anticipating double-digit rate increases at a market-wide level, we believe that ERS requires an average increase below that value. There will always be a range across products, but we are confident in being able to provide stability to our customers.

Fair pricing
New business discounting could disappear
FCA regulations kick-in
Impact on ERS
Dual pricing, or 'price walking', as it's known throughout the industry, was prohibited from January 1st 2022, as per the FCA's Fair Pricing regulation.
The key requirement of the fair pricing rules is that a firm must not set a renewal rate that is higher than the equivalent new business rate. This relates to all personal lines products, but also includes commercial vehicles such as horseboxes and minibuses if they're being sold on a non-commercial basis or they have a personal element to the cover.
Industry experts such as Martin Lewis of Money Saving Expert even encouraged drivers to switch policies before the new requirements came in while rates were lower, irrespective of any cancellation costs, due to the likelihood of securing longer-term savings.
ERS Opinion
From January 1st, a lot of the new business discounting we've seen in the market should have become a thing of the past.
This potentially explains why so many insurers have been focusing on volume at any cost, working to the assumption that customers will be less inclined to switch their policies in the future.
At ERS, we completed our compliance work and made any necessary adjustments to our pricing at the end of 2021, however the impact on our business is minimal as we have always had a fair view of price versus risk. As we develop our Personal Motor products in the coming months, we'll continue to ensure that we remain FCA compliant at all times.
Digital distribution
At ERS, we're constantly looking for ways to make it easier for you to trade with us. Which is why, throughout 2022, we are going to be digitalising our Personal Motor products.
This means making complex products such as Prestige, High Risk Drivers, Enthusiast and Collections available online for the first time – products which have historically relied upon underwriters manually looking at all the risks.
From Q2 2022, we expect to be allowing our brokers to obtain a rate on a £100,000 Supercar or get a rate on a High Risk Driver via a software house. You will also be able to receive Motorhome, Classic Car & Taxi products via OGI, SSP & CDL.
Later in the year, you will be able to obtain Prestige and Enthusiast products via our eTrade platform. These will be full cycle eTrade products, and when any eTraded quote needs to be referred to underwriters, we guarantee a response that's even faster than quotes submitted manually.
Because we need to feed a significant volume of data through the system to inform our machine learning technology, we will begin referring more than we would like at launch, but that will quickly accelerate to the vast majority of risks being traded electronically – leaving you and our underwriters to manually focus on the more complex, difficult risks.
Alongside these developments, in 2021 we made a significant investment in 'Plug in to ERS', which provides a direct, API-based connection between brokers' policy management systems and our rating engine. Using our Plug in to ERS API, you can run a quote request through your system and it will immediately connect with our engine. And, unlike some existing API-based insurer solutions, Plug in to ERS doesn't just enable you to get a price –it allows you to run new business quotes, manage MTAs throughout the policy year and even renew. You can do all this and get all your documents directly from us, without any double-keying.
With software house availability, ERS eTrade, and now Plug into ERS, we've built one of the broadest digital distribution capabilities in the market. But remember, our business is still underpinned by teams of expert underwriters using their skill and judgment to price complex risks every single day. This specialist expertise remains a fundamental part of our DNA.
Our aim is to make it easier, faster and more efficient to get rates from us. We're expecting significant pricing changes across the market in 2022, and we've laid the foundations over the past 12 months to prepare us for these changes. In 2022, more than ever, we're open for business and ready to talk to you about new opportunities.
Martin Hall
Active Underwriter
ERS