When the final whistle was blown on the game between Aston Villa and Sheffield United last week, the nation breathed a collective sigh of relief.
Premier League football is back. British sport is back. And now we can see it with our own eyes, albeit played out behind closed doors, we can all believe it's really happening.
It has been more than three months since Leicester City hammered Aston Villa 4-0, courtesy of two goals apiece for Harvey Barnes and the effervescent Jamie Vardy. Villa will certainly have been happier with their 0-0 draw as they restarted their uphill battle to avoid relegation.
The subsequent suspension of the Premier League – and indeed all sporting events in the UK – in mid-March left a gaping void in the lives of millions of sports enthusiasts.
Not only that but think of the thousands of sporting professionals and employees impacted by the lockdown, deprived of their primary source of income – not to mention their passion – or put onto the furlough scheme, without any clear sense of when they'd be able to return to work.
At ERS we're huge sports fans and we spent a large part of last year eulogising about the incredible sporting spectacles we'd been privileged to witness. To go from 2019's heights to three months of BBC re-runs has been difficult to bear, which is why we raised a glass on Wednesday in honour of all sports professionals, a number of whom have spent the lockdown fundraising and serving their communities.
One thing is for sure though. While sport may be restored on our screens, the motor insurance problems facing sportspeople won't have disappeared. These sporting heroes are seen by mainstream insurers as higher risk simply because their profession keeps them in the public eye. In fact, even if you work in an off-field role in the industry, type this into an automated online insurance portal and you'll almost certainly be given a red flag.
Almost four years ago we launched our Sports & Entertainment product to give athletes, sportspeople and other industry pros a better deal by treating them as individuals and learning about their exact circumstances – for example, the nature of their role, how and where they drive, where their vehicle is stored. The last few months have been quiet for many of our brokers with sporting clients, but as the sports industry starts to whir into motion once more, it's important that we're ready to support these customers, many of whom will rely on their vehicles heavily over the course of their daily working lives.
Sports clients schedules are jam-packed at the best of times. In the footballing world, for example, they'll have to work harder than ever in the coming weeks to fulfil the exacting fixtures schedule, complete the season and almost immediately begin training for the start of the next one. The last thing they need on their minds right now is renewing their car insurance.
If you'd like to learn more about our Sports & Entertainment product, you can contact our team on 0333 241 2445.
And if you're wondering which sporting events are getting back underway in the coming weeks, check out the handy list below – there's plenty to get excited about!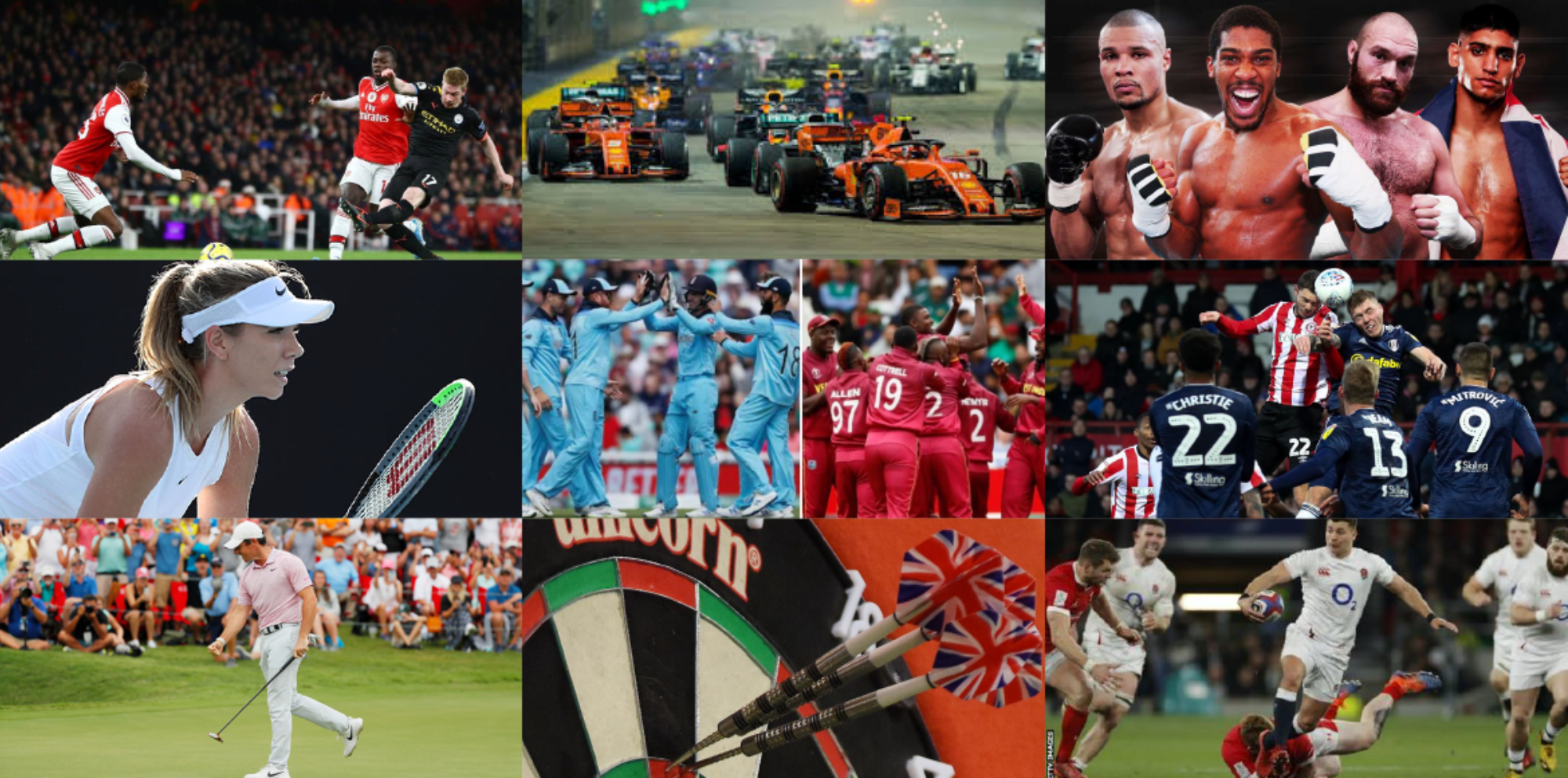 Premier League: already underway
EFL Championship: already underway
F1 season: Austria, 5th July; Silverstone, 2nd August
UK Boxing: July (TBC)
Tennis: The Lawn Tennis Association are hoping to stage a series of new British Tour events from 3rd July
Cricket: Three Test series between England vs West Indies, 8th July. England women's matches against India will look to be arranged for September 2020
Darts: 2020 world darts, 18th July
Rugby Union: 15th August
Golf: PGA tour already underway